CRISTINA'S HISTORY
(2003–2007)
Gelatin Silver prints of varying sizes. Edition of 5.
A Jewish migration itenerary from Poland to Africa.
I met my cousin Cristina da Silva-Schwarc in Guinea-Bissau in 2003. Four generations back our common ancestor, Isuchaar Szwarc, a renowned Jewish scholar, lived in Zgierz, in central Poland. In his lifetime Isuchaar saw his small medieval town transformed by industrialization. He died as the Nazis exterminated the Jewish communities. Isuchaar's eldest son, Samuel, had by then settled in Lisbon. A successful mining engineer also known for his scholarship, Samuel lived in Portugal during the waning decades of its grand colonial epoch. Samuel's daughter Clara moved to Portuguese Guinea in 1947. There she and her husband played a prominent role in the anti-colonial movement. Since Guinea-Bissau's independence, Carlos, their youngest son, has devoted his life to the agricultural development of this impoverished nation. Cristina is Carlos daughter.
I had always heard of this accomplished branch of my family. It occurred to me that their lives were an embodiment of modernity's positivist belief in mobility and progress.
Jewish families are often characterized by patterns of dispersal and migration, patterns that have of late come to characterize the general world population. While my images are specific, my intent is to go beyond the narrow identifications of any particular community.
The condition of multiplicity, wandering, and exile, as shown in this story, suggests some principles for an alternative foundation of cultural identification, based on shared patterns of experience.
Cristina's History is presented as an installation consisting of three digital projections (Zgierz, Lisbon, Guinea-Bissau). In the rooms concerning Poland and Guinea-Bissau, two projectors are mounted back to back on a central pivot. The images rotate around the room (like the beams of a light house), stretching and bending on the walls as they are distorted by the shape of the room. In the Lisbon room, three projectors project the images on alternate walls. Each room`s cycle lasts approximately 15 minutes and consists of about 60 images, presented while a voice-over recounts that segment of the migration story in a 2 minutes looped narration.
The catalog consists of three chapters (Zgierz, Lisbon, Guinea-Bissau) with the sequence of images, and essays by Jean Francois Chevrier, art historian and independent curator, Jonathan Boyarin, professor of modern Jewish studies, and Carlos Schwarz Da Silva, my cousin in Guinea Bissau, director of the NGO Action for Development. Texts in French, English, and Portuguese.
Installation view, Berardo Collection Museum, Lisbon, 2009
Installation view, Le Point du Jour, Cherbourg, France, 2009
Installation view, Musee d'art et d'histoire du Judaisme, Paris, 2010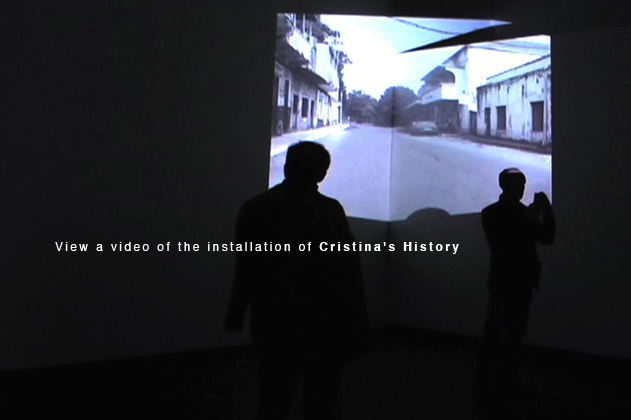 View an installation video of Cristina's History. Exhibition at Le Point du Jour, Cherbourg, 2009.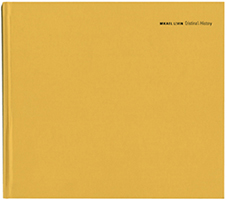 Catalog available on Amazon.fr